DOMESTIC VIOLENCE PREVENTION
We provide domestic violence trainings and workshops for local community groups as well as immigrant and refugee serving organizations.
Our hope is to prevent incidents of abuse by providing the community with a safe and communal space to learn and grow.
52 WEEK DOMESTIC VIOLENCE TREATMENT PROGRAM ​
COMMUNITY DIALOGUE FOR CHANGE
License to Freedom also offers community outreach programs such as parenting classes and arts and crafts workshops. We also offer therapy for children that uses play, expressive arts and narrative practices.


We offer a 52-week Domestic Violence Treatment Program that is court ordered and certified by the County of San Diego Probation Department.
​


We offer the program in Arabic, Farsi and Kurdish and English.



HEALTH LIVING IN THE UNITED STATES
© created by License to Freedom. All Rights Reserved 2011. 131 Avocado Ave. El Cajon, CA 92020. Email: Dilkhwaz@licensetofreedom.org.
FORCED MARRIAGE VICTIM ADVOCACY
License to Freedom offers advocacy, support and assistance to victims of forced marriage. We are currently advocacy for new legislation to help protect women and girls currently living in the United States who are forced into marriages.
License to Freedom also offers counseling services to individuals, children, couples and families. Services are provided in the office or in the home.


Healthy Living Program:

License to Freedom offers an adult program which consists of 10 sessions to work with newcomers to reduce trauma, deal with stress, obtain good communication skills,​ and enable them to adapt a healthy concept of living (for example, finances, nutrition, and more)!

​License to Freedom also offers​ an Expressive Art Therapy program for kids to foster healthy living through activities such as painting, dancing, and drumming.
Pictured above: Working with Senator Christine Kehoe to address issues of Forced Marriage.
Learn more here..
The Community Dialogue for Change program was developed to empower refugee and immigrant communities to embrace visions of family life built on meaningful communication and mutual dignity, safety, and self-respect. The Dialogue stems from a desire to realize fundamental changes capable of reducing the incidence of domestic violence in the long term. The majority of participants at any given time are Middle Eastern immigrants and refugees, including married couples, other related family members, and single persons. We provide safe spaces in which participants can raise and discuss questions about family and gender relations and family violence, and illuminate beliefs, assumptions, attitudes, and ways of living that can then be examined and questioned. Each three-hour, bi-weekly meeting generally centers on a specific presentation, activity, or discussion topic.
​
Recently, we initiated a Dialogue in the Iranian community in North County San Diego. Response has been quick and significant, and we hope to build leadership in that community and resident leaders take over coordination of these activities themselves.


​​Monthly workshop on Domestic Violence and Sexual Assault for women



​Monthly workshop for kids and mom to address Child Sexual Assault Prevention
Through this program we try to connect the refugee community to the homeless in order to create a sense of community belonging. Each session includes cooking and serving food to the homeless community and providing companionship within this community.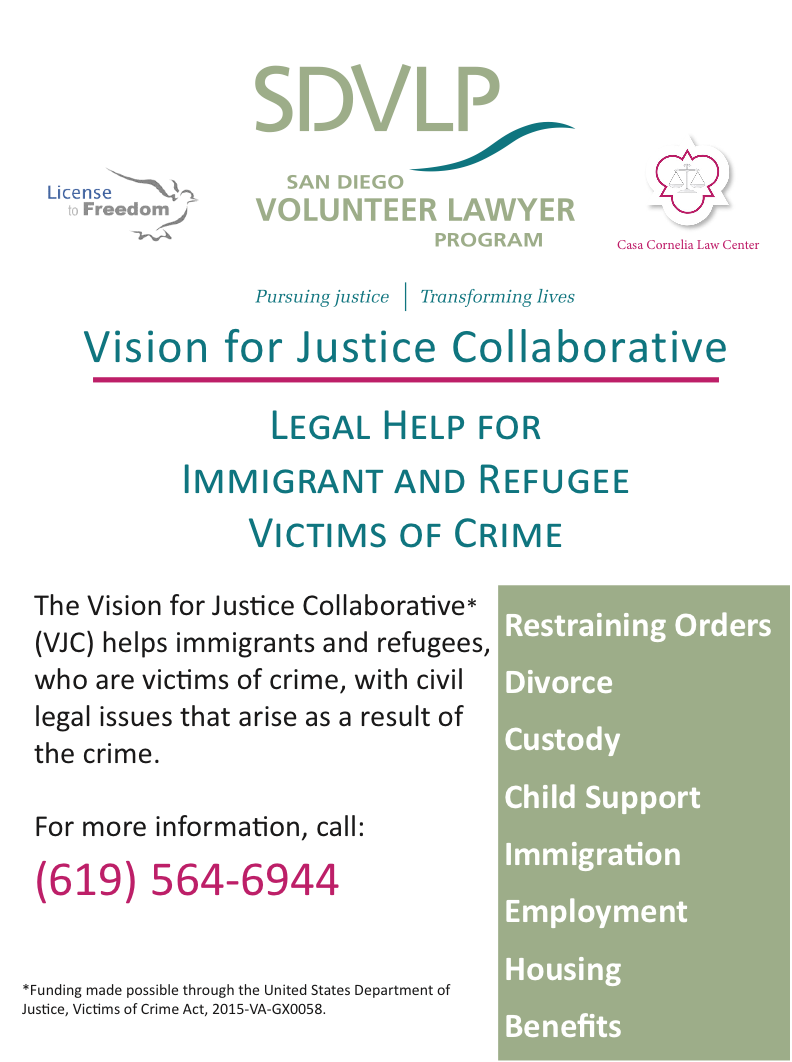 Our Legal Services for Victims of Domestic Violence, Sexual Assault, Stalking, and Victims of Crime